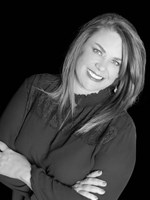 Yvette TeVelde just celebrated her third anniversary with REMAX Momentum in July and has come a long way in a relatively short time. She always had an interest in real estate and a career as an agent was never very far from her mind. But, for some time, she had always kept busy as a Stay-at-Home Mom with her three daughters and husband and wasn't looking for a change. However, after finding herself with spare time as her girls got older, Yvette decided to make that idea of a real estate career a reality.
Learning early on that building relationships is paramount to a successful career, she immediately got to work finding trusted professionals in industries surrounding real estate. The idea was to have a team of experts ready to support her clients at every turn. Regardless of whether potential issues arise related to financing, appraisals, title work or the transaction itself, she strives to have a solution before the client even knows there was a problem. She prides herself on removing as much stress as possible from every transaction.
Yvette also wanted to know the areas she chose to work in better than her competition, so she started previewing homes (especially new build communities) in selected neighborhoods, not only so she could articulate the differences to buyers, but so she could price homes more precisely when working with sellers.
Between her love of marketing, "people person" attitude and consummate dedication to her clients, she's starting to surpass her personal goals each year and is now focusing on a referral based business. The 2015 recipient of REMAX's 100% Club Award and Momentum's "Stepping It Up" Award (for the most significant increase in year-over-year production), Yvette is on track to be recognized for remarkable production levels for years to come.
When she's not chasing the dream of homeownership for her clients, Yvette loves to spend time with her family on the lake enjoying water sports, planning spontaneous traveling adventures and golfing with her husband, who she feels lucky to describe as her "absolute best friend of 19 years." During the winter they head for the mountains for some skiing, but although Yvette doesn't ski herself, she looks forward to tagging along to watch anyway. In addition to supporting her three daughters' athletic endeavors, you can find the entire family cheering on the Broncos on Sundays. A true lover of all things Colorado, don't hesitate to put her passion to work, helping you fulfill all your real estate aspirations!
Filed under: General | Tagged: best real estate company, Colorado real estate, denver, denver real estate, Momentum, real estate, real estate agents, real estate market, remax, remax agents, remax momentum, remax.com |